Az2B Theatre: What Do You See?
Welcoming AZ2B Theatre Company to The Poly for this wonderful, yet thought provoking show suitable for all.
What do you see? is a story about positive transformation. Through good leadership and a desire to make a difference, Joan Marshall's Care Home is changed from a place "you wouldn't put your dog in" to a place you would happily be a resident yourself!
Change doesn't come easy, mistakes are made along the way, but with determination, humour and staff who get on board (however reluctantly) change can happen – even at Joan Marshall's! Through story, mask & puppetry, Az2B take you on a journey of change, hope and possibilities.
You would not want to be a resident at Marshall Joan's Care Home. De-motivated staff, no stimulation and a culture that lacks care. Fortunately they've just failed their CQC inspection leading to a change in ownership, are things about to change? Let's hope so!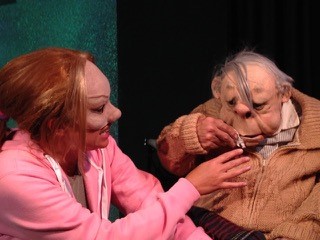 Az2B Theatre Company has developed a reputation for high quality, inspirational theatre which is exciting, entertaining and has something to say. What do you see? premiered nationally in 2016 to outstanding reviews, here is feedback given to us by our audiences:
"Brilliantly observed, very touching & realistic."
"This production touched my heart. It made me think deeply about relationships with the ones I love. Thank you."
"Outstanding and sensitive performances"
"Powerful stuff, very detailed, very thought provoking, very enjoyable."
"Everyone should see this play! Perfectly captured the importance of well trained, motivated care staff and understanding the person behind the dementia."
"Shows that change for the better can happen"
"A very thought provoking, powerful and emotional play x"
"This was a fantastic performance, amazing puppets!"
"Can't even express how amazing this performance was! Well done to everyone involved and please keep up the good work. Amazing!! Thank you"