Rob Ousley
Rob Ousley, Fine Art graduate, 1969.
"I have been painting, printing and building sculpture for 50 years, guided by my perception of landscape.
I saw the steep valleys of western Norway as a vertical plane: the residual snow patterns, low clouds passing, stark shadow lines, the linear patterns of descending water, man's activity at the base - a frieze-like presentation of natural phenomena.
This 'up-rightness' of view had been my visual preoccupation until a visit to the Cornish coast. Here, on a coastal path, the landscape fell away. Looking down toward the rocks and sea below required an altered visual orientation. So I began to reconfigure this 'drop' onto a vertical canvas, focusing on the movement below, water transforming rocks in both shape and colour.
Landscape memories are rebuilt through my paintings, which themselves relate as much to sculptural interests as painterly ones, reflecting the hybrid nature of my work. Whilst using specific locations as anchor and departure point, the work is an evocation of place, a construction of visual references, a synthesis of a lifetime of landscape experiences.
These observations result in prints and paintings that can be very abstract in form, having apparently definite spacial structures, supported by the colour and texture of the surface. However sometimes gestural marks contradict the space, inviting alternative interpretations. Thus the painitngs are not finite, they reflect the transience of the ever changing landscape. The stimuli of Cornish coastal elements are recalled through imaginings, evocations fuelled by my emotional response to the natural phenomena of these locations."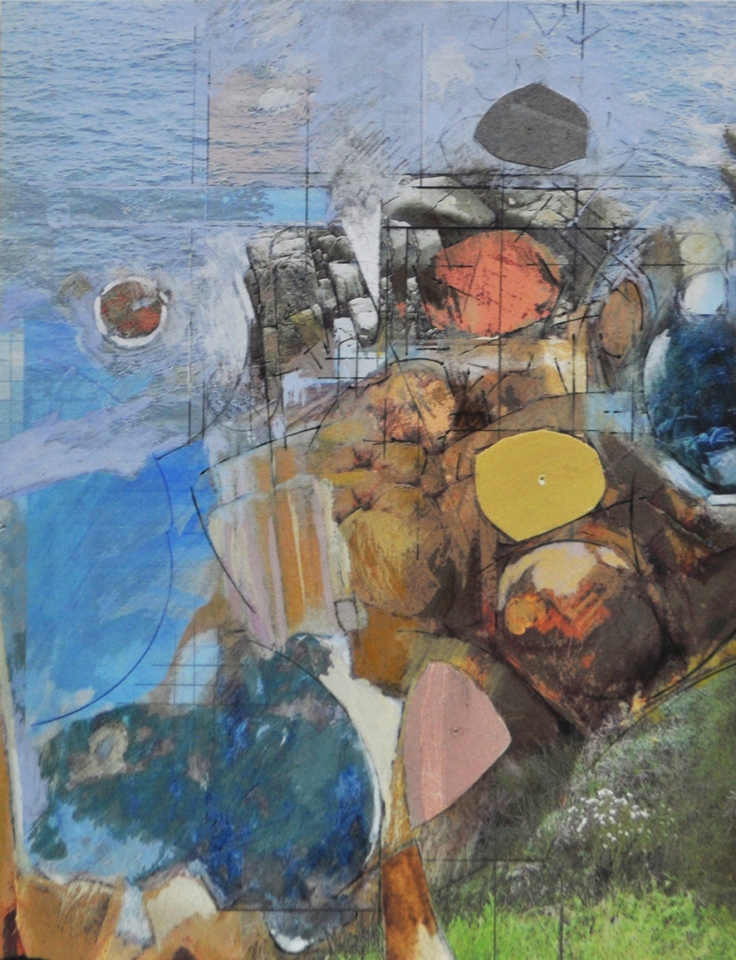 Anders Ousley
Anders Ousley will also be showing recent work on similar themes with a series of studies which focus on a precise location on the The Helford River, between Porthallack beach and Toll Point. Taking inspiration from the processes of revealing and obscuring, these oil paintings explore the metamorphic nature of the coastline.