Business Supporters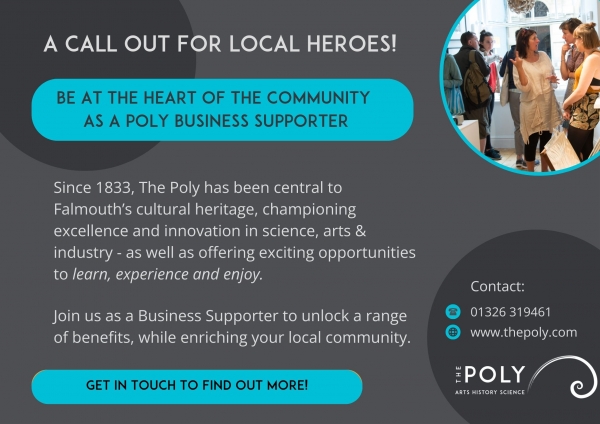 Why support The Poly?
Operating on limited funds, The Poly is charity at the heart of the community - aiming to create positive partnerships with other organisations that want to contribute and encourage creativity and innovation, as well as offering enjoyable experiences and increased wellbeing. As a creative hub, one of The Poly's core values is to nurture local artistic talent in our community, from all backgrounds and disciplines. By supporting The Poly, you can help us offer even more opportunities to local people.
Each year, The Poly:
Hosts over 300 events, including theatre, comedy, music, talks and film screenings
Holds more than 40 art exhibitions in its Spring and Main Gallery, featuring the work of over 100 artists
Showcases the work of over 80 local artists/makers in its Guild Shop
Attracts audiences well in excess of 11,000 people
Involves over 600 participants in workshops and community projects
Holds weekly pottery classes throughout the year and offers kiln firing, supplies and studio space for local potters
Attracts over 36, 000 users to its beautiful Grade 2 Listed building
In addition, The Poly has:
Re-introduced the prestigious RCPS Medal Awards, which date back to the 1800s and celebrate Cornish excellence in the Arts, Industry and Science
By working in partnership with us, your business can:
Enhance its image through an association with The Poly - a charitable organisation at the heart of the arts, science and innovation in Cornwall since 1833
Be at the forefront of the newly reinstated RCPS Medal Awards
Build on 'brand values' through association with The Poly
Place your brand in front of our customers in a cost-effective manner
Develop direct links into the community
Enhance its image through association with specific projects that are at the heart of the community and represent quality, excellence and success
Encourage and support innovation and creativity
Differentiate from competitors
Enjoy 'money can't buy' entertainment for staff, customers, and other key stakeholders
Enjoy creative PR opportunities to generate media interest and coverage
Business Benefits:
Members card
Your logo on our website.
Your logo/name in brochure
Your logo featured in our Supporters' slide, shown before screenings*
10% discount on the hire of the Spring Gallery, Main Gallery, Theatre/Cinema
Exclusive ticket deals for staff
Your logo on our supporters' board in foyer
Thank you; on social media, in our weekly newsletter, in our Members' Newsletter
A chance to vote at our AGM
Opportunities to share special news, where appropriate
* Some selected screenings may be excluded.
Our standard package is available for just £750 per annum!

Bespoke sponsorship options are also available, which could involve sponsoring specific events or projects, or private hire of our theatre/cinema space. There are many ways you could be involved, so please get in touch to find out more!
For a no obligation chat about the benefits of becoming a Business Supporter, contact Michelle Doherty on MichelleD@thepoly.org