The Portrait Sketch in Oils, with Hugh Appleton
The Portrait Sketch in Oils: 3 Day Workshop

Level: intermediate
Tutor: Hugh Appleton
This workshop is for those who want to improve their ability to capture a likeness in a portrait, or their ability to observe and draw accurately. The medium you choose to work with is up to you, but the focus will be on oil painting.
I've made it my mission to understand the ways in which we can transfer the visual images we see onto a two-dimensional surface, to create the illusion of three-dimensions (or even four..!) We will explore the relationship between the image on our retinas and the image in our 'mind's eye', the tricks our minds play on us – in terms of interpreting visual information, and ways in which we can anticipate and counter these effects.
I will explain how to 'map' the face in a way that leaves little room for error, and several ways you can check the accuracy of your painting.
We'll look at the work of various artists; the different techniques they've developed to create an impression of depth and vitality, and how they have enlisted the help of the viewer to enhance the sense of realism.
I'll spend six hours painting two models and talking about my process.
Participants will spend between 12 and 18 hours (depending on their preference) painting four – or six – models, and I will be spending time with each person individually, offering guidance, suggestions and a different perspective.
It's a lot of information – you'll need a notebook!
https://www.instagram.com/hugh.appleton/

@hugh.appleton
There will be a limited number of tickets at a reduced concessionary rate. Please contact The Poly directly on 01326319461to ask about these.
***
The Portrait Sketch in Oils, with Hugh Appleton, An Instructional Workshop with Live Models.

When: 22nd, 23rd, 24th June from 10am - 5pm each day.
Duration: Three days
Cost: £240, including £1 Poly Fund and all materials and equipment.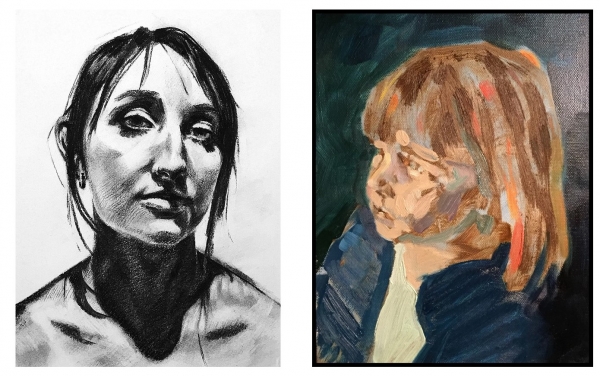 Check times : Book now